Information for prospective students
If you would like to discuss the possibility of pursuing a master's or PhD under my supervision here at Carleton University, please send me an e-mail with the following information:
Read the description of my research interests and discuss in your e-mail if you are willing to work in my areas of research and how your own interests align with my research program.
Give an overview of your academic background (previous degrees), work and research experience. You can include a CV to provide this information. Make sure that you satisfy the program requirements and eligibility, such as having a background in computer science, and an adequate degree satisfying minimum GPA requirements.
State if you would like to apply for the M.Sc. or PhD program.
Use the following subject for your email: "SCS-GS: prospective student for graduate studies".
Note that, given the high number of supervision requests that I receive every week, I will only consider your e-mail if you write a more personalized e-mail according to my suggestions given in this page. Do not apply to the program and list my name as a potential supervisor without letting me know.
Finally, read our lab's page for additional information on pursuing a graduate degree in our lab. You can also find information on living costs and tuition at our university.
Last updated: July 2, 2021.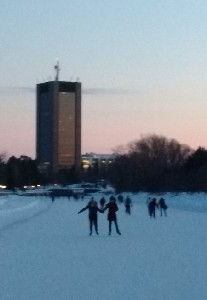 Carleton University seen from the Rideau Canal during Winter
See Carleton's Instagram for more pictures.