Local arrangements



On campus, you can connect to @Memorial-Guest network without a password; it will open a browser window with Terms of Use, and connect you when you click Accept. There is also Eduroam available.
Most lunch places nearby are located at the Churchill square: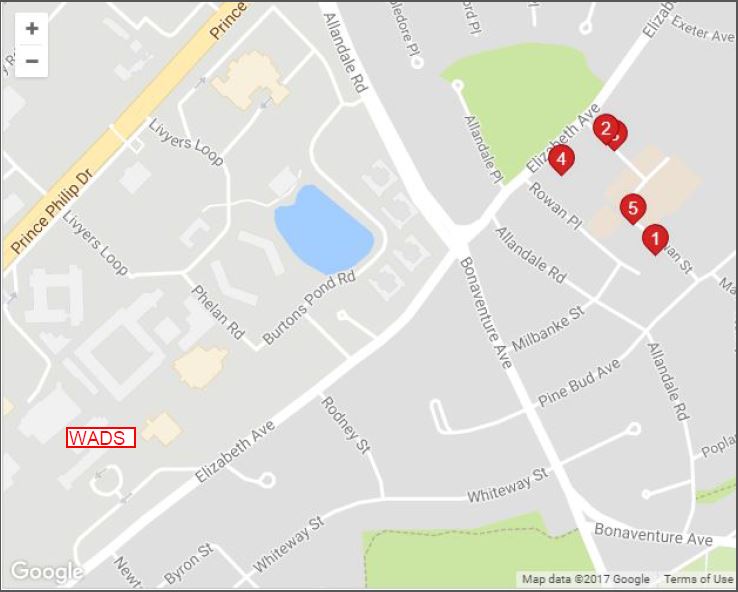 Until 2:30pm, you can also get espresso at the MUN library ; no seating, though.
WADS 2017 will be held on campus of the Memorial University of Newfoundland (MUN), in St. John's, NL, Canada. The talks will be in the Arts and Administration building.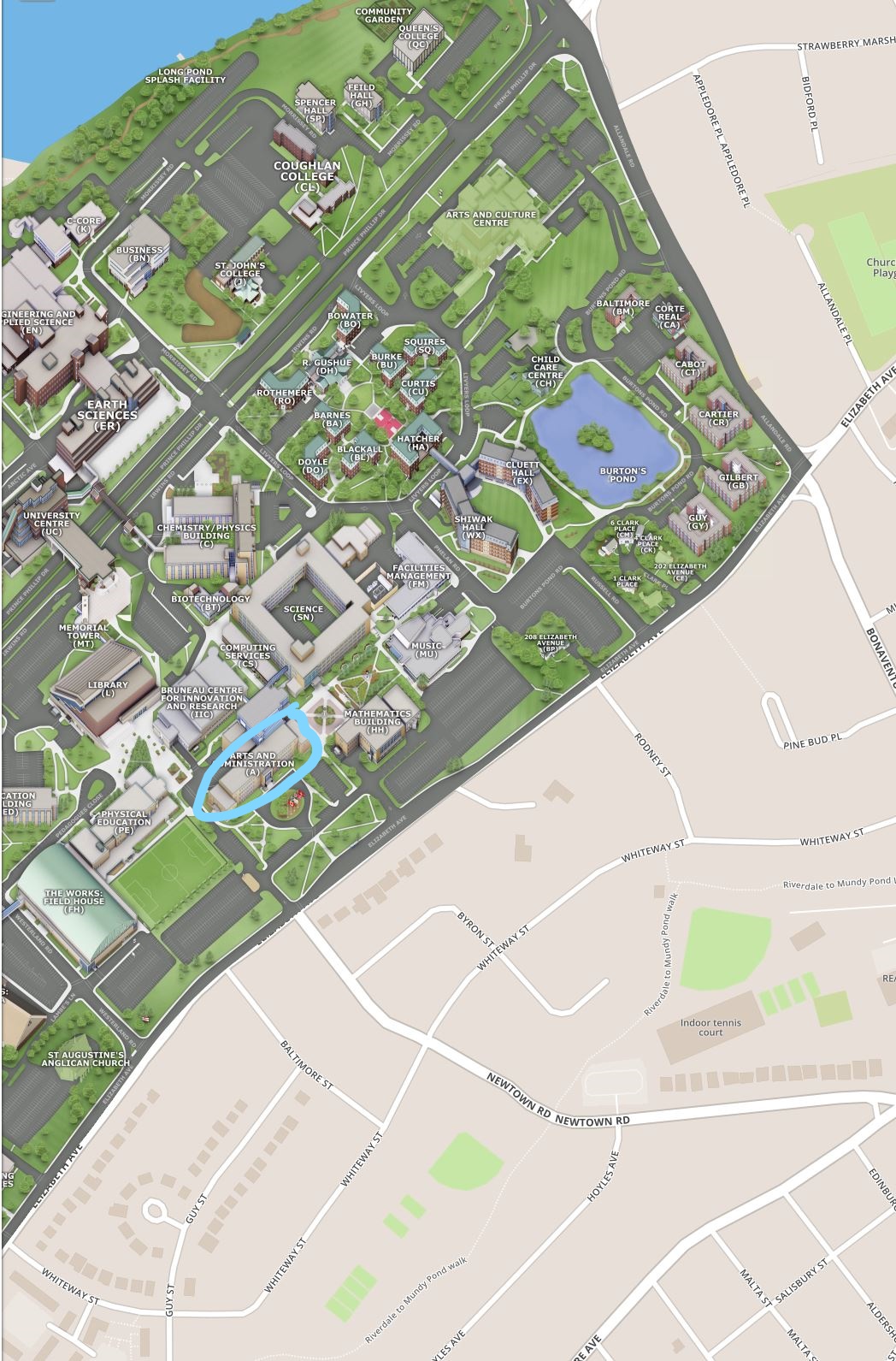 St. John's is located on the south-east of the island of Newfoundland; it is very close to the east-most point of North America. By far the best way to get to St. John's is by air, with direct flights from Toronto, Montreal, Ottawa and Halifax in Canada, as well as London, UK and (seasonally) Dublin, Ireland. The airport code for St. John's, Newfoundland is YYT: not to be confused with St. John, New Brunswick or St. John's, Virgin Islands.
Once at the YYT airport, the best way to get to downtown and MUN is taxi (~$25 to downtown); the only public transit bus that goes to the airport, #14, does not run on Sundays.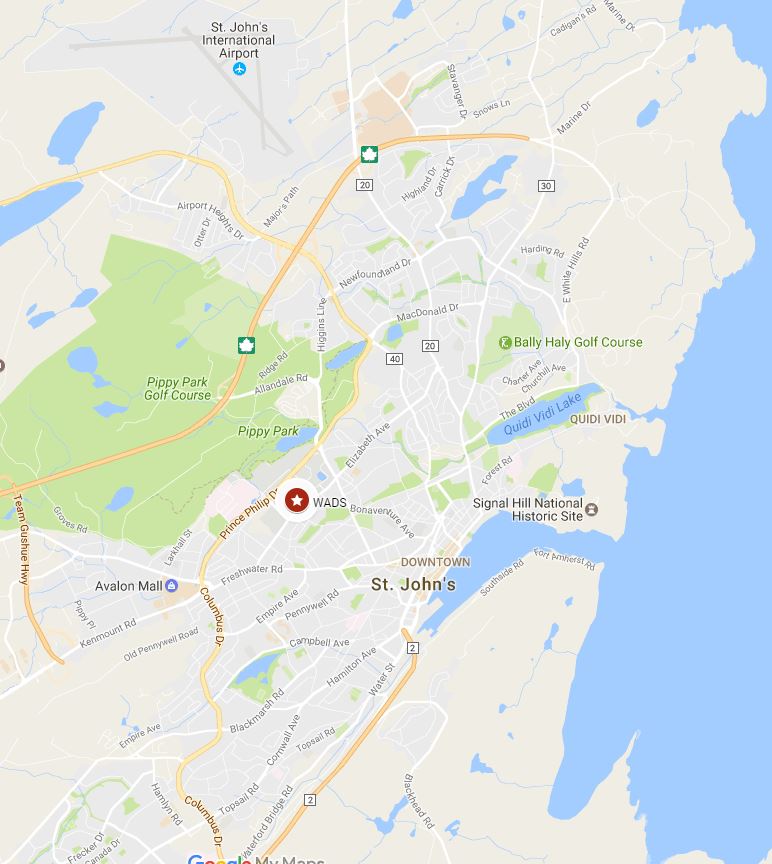 There is a number of options for staying in St. John's downtown. In addition to a few hotels, there are plenty of B&Bs, and Airbnb is becoming popular lately. Downtown would be a nicer place to stay, with easy access to cafes, activities, etc. Note that many bed and breakfasts and inns would not show up on larger booking sites, but you can find them through sites such as Tripadvisor (or even Google maps), and book via their own websites.
There is also a
MUN student residence
on campus, providing summer accommodation. Use promotion code WADS2017; you can either book a full suite (two bedrooms sharing common space -- select two rooms when booking) for $120 total, or half a suite for $60: for half a suite bookings, they promise to match WADS participants together and let you specify roommates. To get this special rate, please book by July 1st.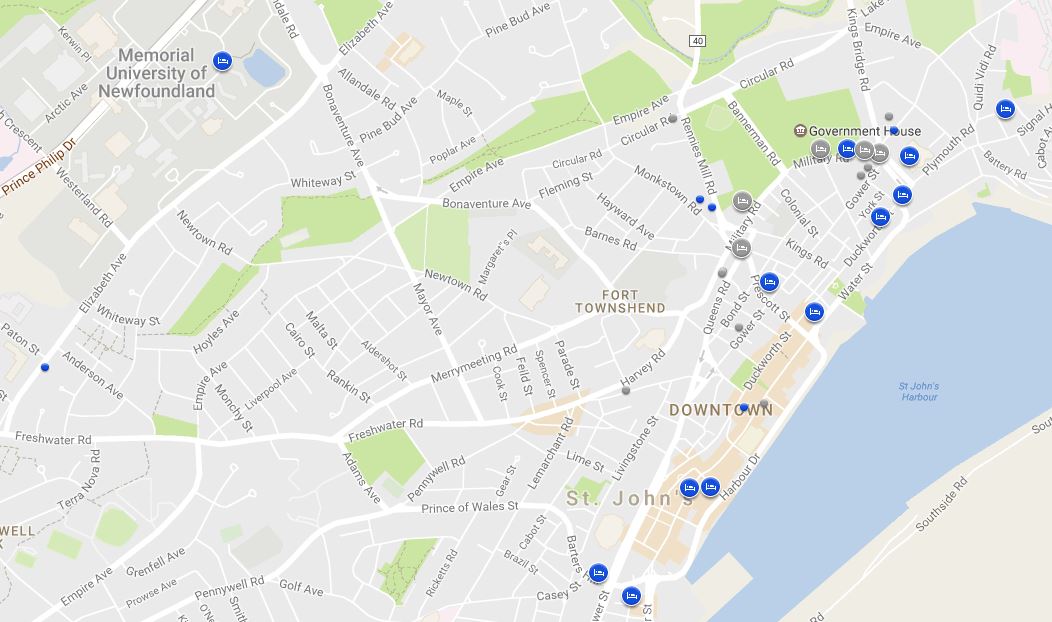 Most of St. John's downtown is within half an hour walk from the conference venue; there are several city buses (particularly #15, #10 and #2) which go between downtown and MUN.
There are several events happening in St. John's during our conference.
The George Street Festival
is a major music festival, happening every summer; it runs from July 28th to August 2nd this year (and is likely to affect availability of accommodation for WADS...)
Wednesday, August 2nd, is the Regatta day: if the weather is good, it is an official holiday in the city, when people converge on Quidi Vidi lake to watch the
Royal St. John's Regatta.
Additionally, there is plenty of hiking around St. John's, with the
Signal Hill National Histori Site
trails starting at the east end of downtown.
Further afield (and all requiring a car to access), there is a number of ecological/historic sites. There is
Cape Spear
(the east-most point of North America) just 12km south-east of St. John's. South of that, there is a
Witless Bay ecological reserve:
this is where we plan to have our excursion (a
boat tour
to seabird colonies). Beyond that, there are bird colonies on
Cape St. Mary's
(access without a boat), a
Colony of Avalon archaeological site
in Ferryland, and
Mistaken point ecological reserve
fossil site (you have to reserve a tour to go there, as far as I know).
Even further away (and requiring multi-day car trips) are the
Gros Morne national park
on the west coast of Newfoundland and a Norse (Viking) archeological site
at L'Anse aux Meadows National Historic Site
. They are interesting places to visit (especially if you come with children), but they are not at a day-trip distance from St. John's.
Registration information
Registration is now open.
Financial support is available for Ontario-based students, postdocs and early career researchers (click on the "Form selection page" on the second page of the registration form).